The clocks went forward an hour last night. It's British Summertime. Of course it rained today!
Inso has painted the first of his Mystic Warriors and is unlikely to finish any more today so I thought I'd post early today. This one is queen Jen Amidala:
She is only the same height as a Grymn and her face is tiny so god knows how he painted the make up...Inso says that it looks better in the flesh (so it sounds like he isn't that happy with it). I'll leave it up to you to decide whether it works or not.
Well, that's it for now.
See you tomorrow...
...Or not. Inso just sent this over to me and swears that it is his last for tonight. It's Young Mystic Meg and can you believe it is even smaller than the last one: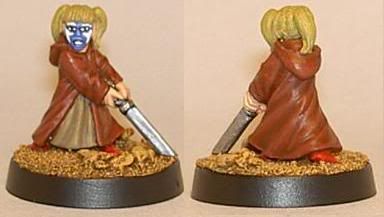 Definitely bye for now!